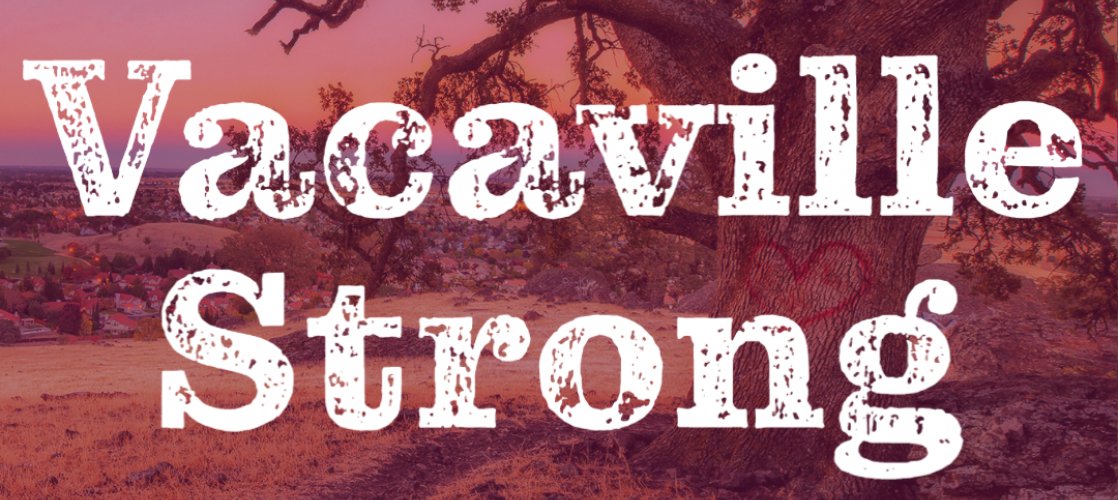 Vacaville Fire Recovery Resources
The recent LNU Complex Fire has greatly affected our community. We are doing our best to compile resources for those affected as well as for those wanting to volunteer and donate. This page will be continuously updated as we move through the recovery process.
If you have any other resources or additional info to add please email adam@visitvacaville.com
If you or someone you know is in need due to the LNU Complex fire please send an email to admin@visitvacaville.com and we will connect you to resources that best match your needs

Beginning tomorrow (8/30/2020) at 9 am Solano County will open its Local Assistance Center for SOLANO COUNTY residents impacted by the LNU Lightning Complex fire. Located at Solano Community College, 2001 N. Village Pkwy in Vacaville, this one-stop-shop for local, state, and federal recovery resources will include critical document replacement services, veteran services, agricultural assistance, environmental health services, economic recovery and financial services, motor vehicle services, healthcare and mental health services and more. You will need to provide proof of residence. For more information call (707) 784-1575 during regular hours of operation. The LAC will operate 9 am to 5 pm seven days a week until further notice.

---
Donation Centers
---
103 Aegean Way, Vacaville, CA 95687
Accepting food, water, gift cards, and monetary donations. All other donations paused. They are in need of volunteers. Reach them directly through Facebook linked below
Accepting gift cards OR adopt a family.
Follow for updates: Facebook Instagram
Contact here for adopt a family but please keep in mind they are receiving a ton of emails (I'm sure they are prioritizing fire victims that are reaching out): rise.and.redemption@gmail.com
Gift cards, cash, check to fire victims AND/OR meals to first responders.
Strada 1200 Apartments
1200 Allison Dr, Vacaville, CA 95687
Accepting food, water, gift cards, and monetary donations
---
Direct Donation Campaigns
---
The Carollo Family
Lost their home in the fires. They don't have a go fund me but they have a Venmo @Heather-Carollo
@Sabrina-Summerfield on Venmo
-Lost her family home.
They are also in search of a place to live that is dog friendly. Please reach out to Nicolehenry1255@gmail.com if you know of an open place.
---
Relief Funds
---
Muertos Coffee Co - General Fund
General monetary fund going to victims of the fire."Donations will be split evenly to as many families as we can help."
The Solano Disaster Relief Fund was established to support recovery and rebuilding efforts. After the initial frenzy, chaos, and loss caused by devastating disaster passes, the relief and recovery stages begin. Grants from this Fund will help nonprofits provide direct services and financial assistance to individuals and families. SCF is not able to support individuals with cash grants.
---
Aid Distribution Centers
---
Project Linus
Project Linus, Solano County Chapter is providing blankets of comfort to children age 0-18 who have been affected. Project Linus provides blankets for children across the area via hospitals, social services, and during natural disasters. These are made by blanketeers who want to provide a bit of comfort to children. We are trying to spread the word so children who need a blanket can get one. You can find more information about the chapter on the Project Linus – Solano County Chapter Facebook Page and the Solano Chapter Website
Rise & Redemption
300 Main St. Vacavile, CA 95688
Distributing a wide range of donations
Contact here for adopt a family but please keep in mind they are receiving a ton of emails (I'm sure they are prioritizing fire victims that are reaching out): rise.and.redemption@gmail.com
---
Relief Resources
---
USDA
Emergency Funding Available
Farming Businesses May Request a Needs Assessment

Discovery Tool Website Link
Affected Farms
---
For more information how you can help the farms that were affected by this disaster including signing up to volunteer please visit:
Joyful Ranch

Ethel is safe. The house is safe.They lost the pictured 1800s buggy horse barn and 4 other structures, the bathrooms, the foreman's cottage and trailer.
Home of the original William J Pleasants - is still standing, but the historical barn burned.
Girl on the Hill

Dan & Denise are safe. House survived. Lavender fields gone, Denise's workshop is gone.
La Borgata Winery and Distillery

The family is safe. House survived. Vineyard, winery & distillery, & equipment is gone.
Soul Food Farm

Alexis & Eric and family are safe. Animals survived. Some field damage and barn damage. Home is safe.

Samuels Ranch Sustainable

The family is safe but they lost a lot. They will need our help cleaning up & rebuilding when the time is right. They lost their historical homes. Some of their animals survived. Follow their page for full updates.
VENMO: @Jasmine-Westbrook-3
Zinger Ranch

Missy & family are safe. Their house survived but they lost some structures and some animals. The cows Dexter & Angus are okay, the sheep okay. They may need help cleaning up & rebuilding when it's time.
VENMO: @Missy-Benzinger
Clay's Bees

Clay lost 73 hives out of 81 in Pleasants Valley. We're here for you Clay.
VENMO: Clay-Ford-5

Brazelton Ranch

The family is safe. The orchards are safe. They lost 3 cattle but the rest are safe.

Pleasants Valley Iris Farm

They are safe but their house is a total loss.
Check back on the website or follow them on Facebook
Sky Ranch Estate

Everyone is safe but they lost a lot. They lost their vineyards, olive groves, house and all buildings and barns. The people and animals are safe. One person waited it out in the pond and had to be rescued by helicopter the next morning.

Be Love Farm

Matt & Terces are safe. Their farm is okay. They have minor damage.

Castle Rock Nigerians (Goats)

Sarah & family are okay, the house burned down, and they lost many of their animals.
CASTLEROCK FIRE RELEIF FUND:


Lucky Ones Ranch

Thao & Vince are safe. They lost their home and barns.
LUCKY ONES GOFUNDME:


Silent Stay Retreat Center

The people are okay, the retreat center burned down. Visit their website for their statement and how you can help them rebuild.