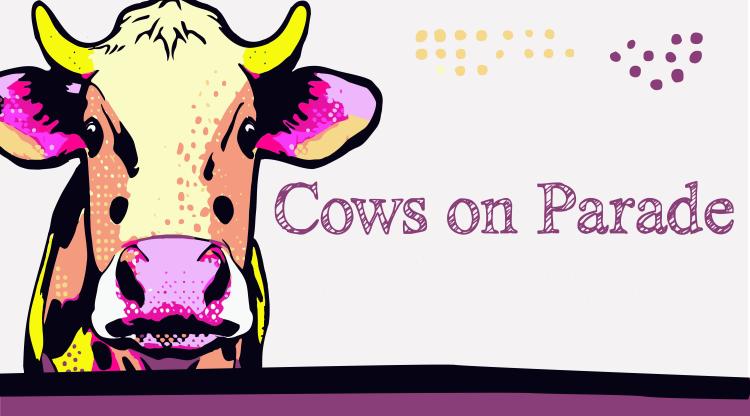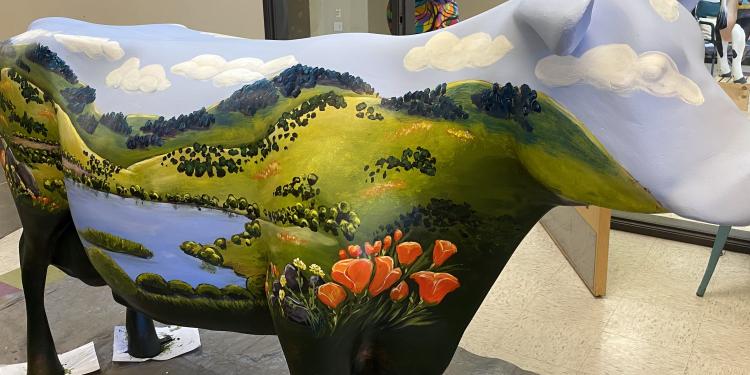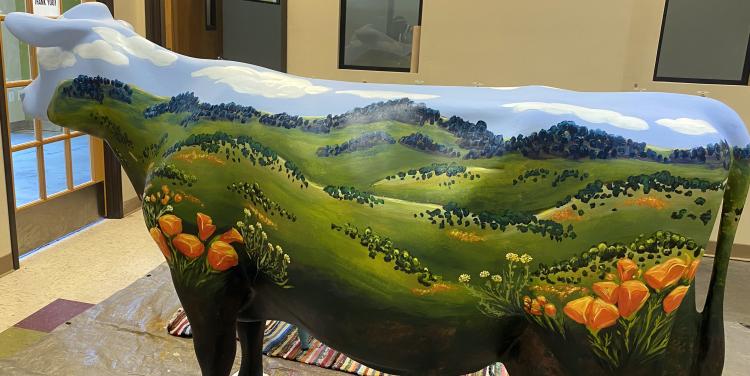 Artist: Cristie Baron
Sponsored by: TriAd Lagoon Valley
About the Artist
I am a working artist and creative influencer in Northern California. My personal creations are fueled by my love for nature and our local landscape. There is an endless source of inspiration around us in Vacaville and I never tire of the spark it brings to my canvas whether a canvas or a large mural. I own Joyful Art Studio, an art studio that provides classes in painting, mixed media and much more! Sharing the world of the arts with all ages is exciting and inspiring. I am dedicated to making art fun, doable and accessible to everyone. Bringing art into our community through workshops and classes is a passion I find great joy in. I believe there is value in the process of art and that all can benefit no matter the final product.
Cow Design Concept
As a painter, I love using the colors found in our local landscape. I imagine native flora and fauna as a colorful landscape reflecting the importance of cows as a vital part of our agricultural community. I often start my acrylic works with a "chaos layer". Covering my surface with a depth of color in a playful and colorful underpainting. Bringing in few select young artists from my studio to help paint this foundational layer would connect the community to the finished piece. I would then intuitively paint bright blue California skies, rolling green hills splattered with wildflowers and plant life frequently seen when stopping to take in the beauty that surrounds us.
About the Sponsor
Founded in 1984 in Seattle, Triad Development has grown into a diversified real estate development company with properties throughout the country, and offices in Washington and Northern California. Led by the Company's co-founder, Frederick W. Grimm, Triad is currently pushing forward with the development of communities featuring nearly 1,500 homes and one million square feet of commercial space, all in various stages of planning, design, permitting and construction.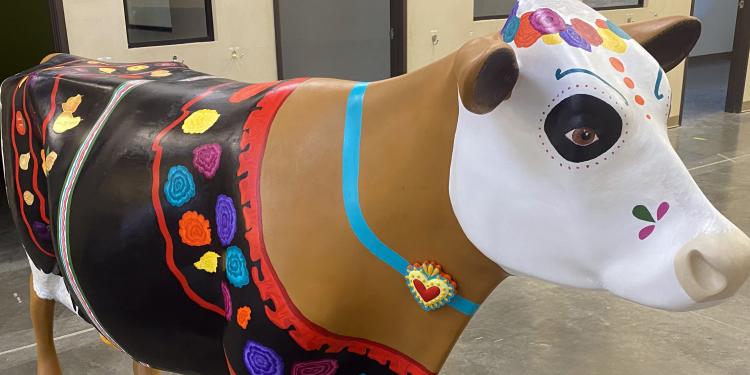 Artists: Samia & Ally Estrada
Sponsored by: Vacaville Premium Outlets
About the Artists

Samia and Ally Estrada are the dynamic mother-daughter artistic team whose vibrant creations are a true reflection of their Latino heritage and spirited personalities. Drawing inspiration from their rich cultural roots, their artwork breathes life into traditional themes while radiating youthful charm. With a lineage spanning four generations of artists, creativity flows through their veins. Together, they weave a colorful tapestry that beautifully fuses tradition and modernity, leaving an indelible mark on the world of art the world so desperately needs. Through my paintings, I hope to be a catalyst for empathy, understanding, and ultimately, a brighter future for all.
Cow Design Concept
Considering the Mexican heritage and the profound influence of fruit and nut products in Vacaville, we have chosen to use acrylic paint to create an artistic depiction of a cow adorned in a traditional Mexican dress. The dress, typically embroidered with vibrant colored flowers, is instead embellished with an assortment of fruits and nuts. Symbolically, the cow's painted face and adorned head with flowers pay tribute to the celebration of both the living and the departed, effortlessly merging history with the present.
About the Sponsor

Vacaville Premium Outlets is a beautiful outdoor shopping property in Northern California, boasting over 85 stores including J.Crew, Kate Spade, Michael Kors, Nike, and Under Armour. As one of the area's largest shopping destinations, Vacaville Premium Outlets serves the nearby communities of San Francisco, Napa Valley, and Sacramento. Conveniently located right off the intersection of I-80 and Nut Tree Road.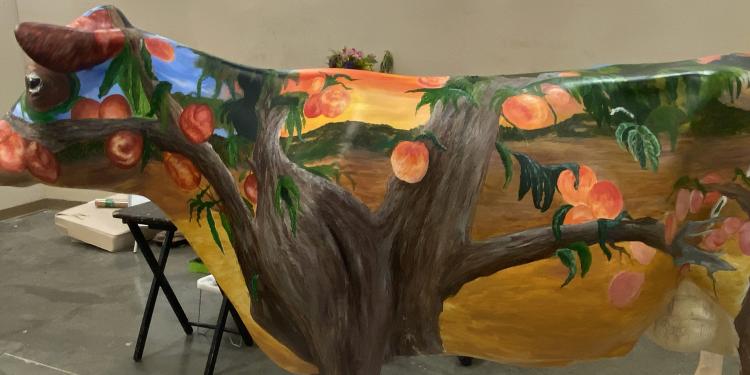 Artist: Kathleen S. Farros
Sponsored by: Intero Real Estate Services
About the Artist

Kathleen S. Farros works in ceramic sculpture, assemblage, and bronze, with attention to the painted surfaces. She combines social concepts, idioms, and fertility with Mother Nature subject matter in a narrative approach. Fertile valleys and nature originate from growing up in the San Joaquin Valley surrounded by agriculture, farming, and open spaces. Her subject matter often contains flora and fauna, utilizing juxtapositions of the plant and animal worlds. Dreams, mythology, and everyday situations inspire Kathleen in a surrealistic manner. Often, one sees the play on words, utilized in Pop and Funk Art depicting the subject matter. Fish, turtles, snails, vegetables such as cabbages, asparagus, carrots are often seen in her work. Imagery is symbolic of strength; fertility of living things and the journey all are on as they navigate through Life. Kathleen has been fortunate to have had early and continued support and encouragement in the arts. Creativity was fostered from the very beginning. Her grandmother was trained in commercial art and was a painter. Respect for the arts was and is significant. Choosing UC Davis and working with significant artists was springboard. Robert Arneson, David Gilhooly, and Peter Vandenberge were and continue to be influences in Kathleen's life in the sculptural scene. She was fortunate to follow the Funk Artists of the 60's. Wayne Thiebaud, Robert Shapiro, and Jerry Hoepfner influenced her painting in color technique and convention. Surrealist artists, Salvador Dali and Rene Magritte, inspire Kathleen. Kathleen S. Farros received a B.A. in Fine Art from UC Davis and a M.A. in Art from CSU, Sacramento. Kathleen taught art, orchestrated arts programs, and was in administration in Vacaville for 39 years. Also teaching in Design at UC Davis a few summers, art history at Chapman College and University of Phoenix, she pushed to teach to all levels. She held leadership roles in the arts in Solano County and within CA-ensuring the arts continue to be available for students of all ages. After college, she worked with David Gilhooly-a key mentor- as well as additional artists in studio situations, which was enriching and an artistically expanding time. One Second Saturday in Sacramento, she signed up with Alan Osborne and the Art Foundry to experience bronze casting. Learning the lost wax process and creating in bronze proved to be a worthy medium to portray her ideas. Years of teaching, allowed her to perfect techniques in painting, sculpting, and printmaking. Currently, Kathleen shares a studio at The Studios (1727 I St.) in mid-town Sacramento. Her art can be viewed every Sacramento Second Saturday or by appointment at The Art studios and also in several regional show venues.

Cow Design Concept

Vacaville was settled in the 1800's and flourished in dry farming. Early Spanish and Mexican settlers with traditions were present. I chose to honor two areas of Vacaville's history. One is of dry farming, orchards- including shipping to the east coast and later to France. The second is the Fiesta-The Fiesta Day's celebration began as Western Fiesta but was renamed to honor the Spanish and Mexican cultures that helped found Vacaville. One side of the cow would depict the Vacaville landscape-Vaca Mountains on the horizon with a fresh dawn. The orchard is one of peaches. Peaches were cut, dried, and shipped out. Even to this day, people are still speaking of cutting peaches and showing scars. I believe it was almost a rite of passage and privilege to work in the sheds cutting peaches, as well as other fruits. In the foreground is a large peach tree that envelopes the front leg and head. The back end of the cow would depict lug boxes with L. W. Buck on them, Leonard W. Buck purchased land in both Vacaville and Lodi, mainly raising peaches and Tokay grapes. He pioneered fruit packing and shipping to the east coast. The other side of the cow would depict the Fiesta celebration with dancing Ballet Folklorico individuals, in front of the blue-sky Vacaville landscape, while marching in the parade. A jubilant cowboy throws a hat in the air. The materials proposed are acrylic paints and sealers. I would hand paint the Art Cow to exhibit vibrancy, working by hand, and energy to create a piece to honor early Vacaville pioneers.

About the Sponsor

Intero Real Estate in Vacaville (formally Showcase Properties), was opened in 1992 by Real Estate Broker Elizabeth Fry. Intero Real Estate in Vacaville was opened February 2014. The Intero business model is customer service based, providing a HUB of services and a Team environment creating better systems, more efficiencies, and a higher level marketing, communication and customer service.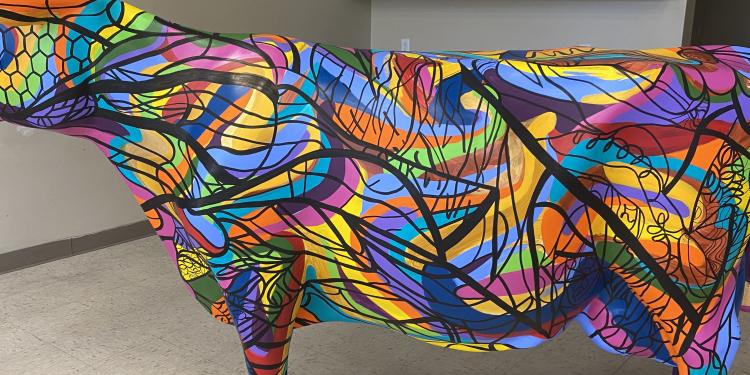 Artist: Angela Arteritano
Sponsored by: On Stage Vacaville

About the Artist

Angela Arteritano is a Venezuelan American multidisciplinary artist, choreographer, and researcher, based in Vacaville. She holds a Bachelor of Fine Arts degree in Studio Art and a Master of Fine Arts in Choreography. Her work deals with issues of migration and identity through an interdisciplinary choreographic practice. With over fifteen years of experience in traditional Flamenco, she has developed an experimental practice that is rooted in tradition but pursues new ways of understanding. Her multidisciplinary work has been presented in art galleries, performing arts theaters, and alternative spaces throughout the United States and internationally. Some of these spaces include The Miramar Cultural Center; Bayou Theater, Match Theater; Texas State Galleries; Denton Arts Center; among others. Additionally, her work has been recognized and supported by various non-profit organizations; including the recognition of 2021 Cultura Power Grant Awardee by San Jose's leading Latinx Art Organization – MACLA; the support of Studio 210 summer 2021 Residency program; Ca$h Dance award 2022 by Dancer's Group in San Francisco, and the Map Fund Micro Grant award in early 2023. Her most recent dance film "Markme" has been broadly recognized and awarded in film festivals around the world, including the recognition of Best First Time Director by the Vesuvius International Film Festival in Campania, Italy; Honorary Mention at the London International Monthly Film Festival, Semi-finalist for best women empowerment short at the Paris International Short Festival, and best experimental short at Ag & Art Film Festival. As the new Vice President of Development for On Stage Vacaville since the fall of 2022, she actively works to bring more equitable opportunities to performing art professionals in our area, as well as fostering a diverse local arts environment through the development of programs that uphold values in DEI. As an art administrator that continues to be an active artist, she finds passion in supporting fellow artists and art organizations as she believes in the greater impact of a well-nourished artistic ecosystem in the wellbeing of our entire community.
Cow Design Concept
"Pilar" explores the concept of emblems and how to create belonging through emergent symbols that become characteristic of a developing community. As an immigrant artist, I'm constantly looking for opportunities to connect with my surroundings, people and places. Inspired by the permanent nature and the intrinsically accessible capacity of public art, I saw the opportunity to hold space for our communities to connect and take part in the creative process of an artwork that would carry our essence. The result is a multilayer project that stands for resilience, sustainability of art and agriculture, and the importance of creating bridges within our communities. In the framework of this project the work becomes a reminder of how communities can build, rebuild, and support in a very essential way this mission of sustainability across sectors. Lastly, the work also holds a tangible connection to each individual that was part of the experiences within the project. This creates an opportunity for community members to see themselves represented in the work, to develop a sense of pride and belonging to their hometown, and to hopefully leave a permanent mark for the work to continue carrying the same capacity through generations to come after them. I chose to name the work "Pilar" as a common name in my culture that stands for Pillar of strength, and that also happens to be the name of my mother. The cow as a nurturing motherly symbol, becomes the home of this multilayered work, and I wish for the children of our children that were part of this experience to be able to see themselves represented in their ancestors' hometown as they experience this work for generations.
About the Sponsor
On Stage Vacaville is a volunteer run organization located in Vacaville, California. For over two decades, On Stage Vacaville has been a fierce advocate for arts appreciation and education in the community. Their programs focus on delivering opportunities for new and underrepresented audiences and local performers to participate in the arts.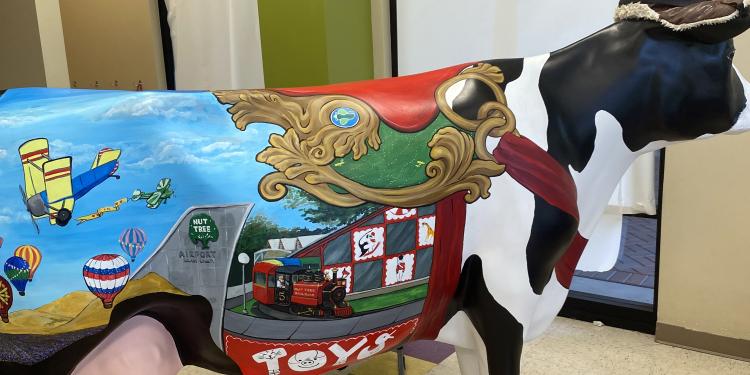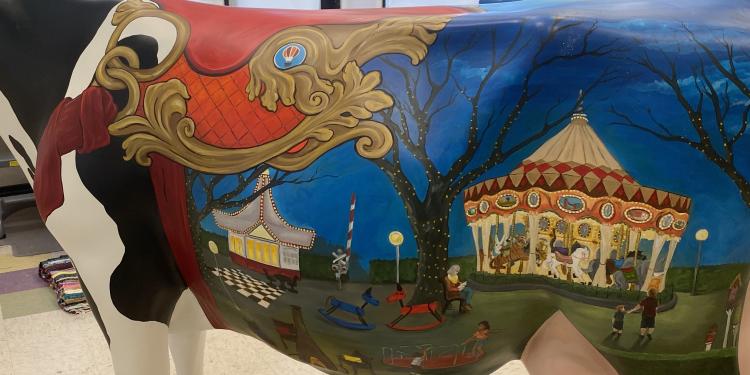 Artist: Nancy Donahue-Schuetz
Sponsored by: Nut Tree Plaza
About the Artist

As an artist hailing from Vacaville, California, my journey has been one of exploration, inspiration, and a deep love for the creative process. Having honed my skills at the Academy of Art University in San Francisco, I specialize in a diverse range of subjects, from captivating portraits to the vibrant world of still life, and the enchanting beauty of animals.

My studio in Vacaville serves as my sanctuary of whimsical creativity, where I craft pieces that seek to evoke emotion and give peace and tranquility to the viewer. Beyond my studio walls, I am dedicated to nurturing young artistic minds, volunteering at local schools to impart the joys of artistic expression to the next generation.

Public art has been a driving force in my career, with mural work adorning walls across the country. These grand canvases allow me to bring my art into the public sphere, where it can inspire and delight people from all walks of life.
Cow Design Concept

My vision for this project was to capture the essence of Vacaville's past, where families gathered at the iconic Nut Tree. Children laughed and rode the train after visiting the truly magical toy store and aviation enthusiasts marveled at the vintage airplanes at the Nut Tree airport. This vibrant and colorful mural will serve as a whimsical, artistic tribute to these cherished memories as well as a snapshot of the current nut tree plaza and carousel to bridge the gap between old and new Vacaville. This is about preserving and celebrating the Nut Tree's legacy for future generations.
About the Sponsor
The Nut Tree opened in 1921 as a modest roadside stop in Vacaville, eventually growing to become a world-famous road stop with a restaurant, toy store, and railroad connecting to the Nut Tree Airport. For a short time, it even boasted a 2-acre amusement park by the name of Nut Tree Family Center.

Today, the Nut Tree Shopping Center features over 50 retail stores, popular dining options, and the railroad and carousel that the Nut Tree is famous for, it's the perfect spot for a family shopping excursion.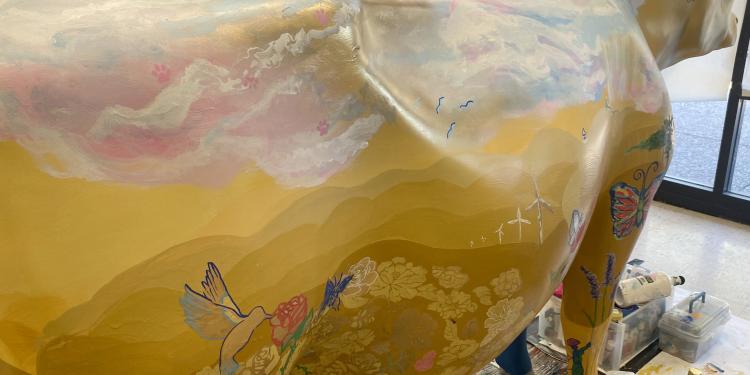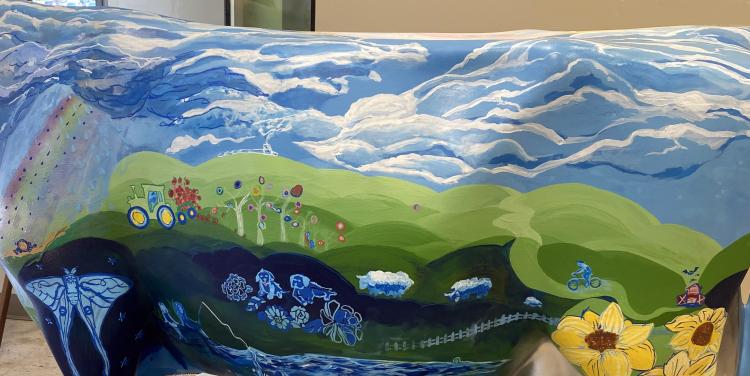 Artist: Olivia Griffin
Sponsored by: Blue Mountain Construction Services, Inc.
About the Artist

My artistic journey is driven by the deep desire to make a difference. I believe that art has the power to inspire, educate, and transform, and it is my mission to contribute to the positive social change that our world so desperately needs. Through my paintings, I hope to be a catalyst for empathy, understanding, and ultimately, a brighter future for all.
Cow Design Concept

In my artistic process for this project I tried to capture the essence of "home". Having grown up in Vacaville, I was filled with excitement to showcase the beauty of my hometown. Through my art, I aim to convey the timeless charm that Vacaville possesses, which I continue to perceive in every season and all types of weather. Each brushstroke and color choice is inspired by the memories and emotions I associate with this place, allowing me to create a visual experience that evokes a sense of familiarity and belonging. By sharing fragments of Vacaville's beauty, I hope to connect with viewers on a deeply personal level, transporting them to a place where they, too, can find solace and a sense of home.
About the Sponsor

Blue Mountain Construction Services, Inc. is a family owned and operated heating, cooling, plumbing and electrical contractor. Since 1981, homeowners, builders, general contractors and property managers in California and Nevada have relied on Blue Mountain to design, install and repair most major systems in homes, multi-family communities and assisted living complexes.