The Fleetwood Mac Concert Experience - Starring Gypsy Dreams
June01
7:30 PM
Experience the timeless power of one of the greatest supergroups of our time.

From its earliest roots in Britain as a legendary blues group, Fleetwood Mac grew into a worldwide pop phenomenon with the addition of members Lindsey Buckingham and Stevie Nicks. Along with vocalist/keyboardist Christine McVie, Bassist John McVie, and original founding member drummer Mick Fleetwood, 'The Mac' became a force to be reckoned with on rock radio and in concert venues globally.

Their 1975 self-titled album, 'Fleetwood Mac', reached No. 1 in the United States. 'Rumours' (1977), Fleetwood Mac's second album after the arrival of Buckingham and Nicks, produced four U.S. Top 10 singles and remained at number one on the American albums chart for 31 weeks. It also reached the top spot in countries around the world and won a Grammy Award for Album of the Year in 1978. Rumours has sold over 40 million copies worldwide, making it one of the best-selling albums in history.

The Fleetwood Mac Concert Experience recreates the music and magic of Fleetwood Mac with such songs as "Go Your Own Way" "Rhiannon" "You Make Loving Fun" "Don't Stop" "Say You Love Me" just to name a few. Plus, you'll thrill to the solo work released by both Stevie Nicks and Lindsey Buckingham!

One of the most authentic tributes of its time, The Fleetwood Mac Concert Experience will take you back to the days when album rock ruled FM radio and the timeless songs of Fleetwood Mac became the soundtrack of our lives.

Witness the most authentic and exciting Fleetwood Mac Tribute shows touring today… The Fleetwood Mac Concert Experience starring Gypsy Dreams!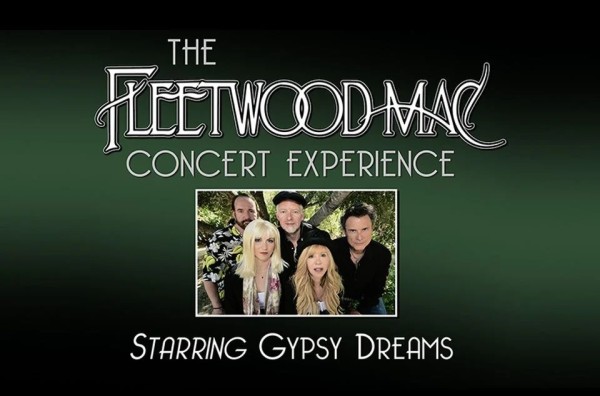 The Fleetwood Mac Concert Experience - Starring Gypsy Dreams
Vacaville Performing Arts Theatre
1010 Ulatis Drive
Vacaville, CA 95687