FREE Vacaville Hometown Hero Banner Program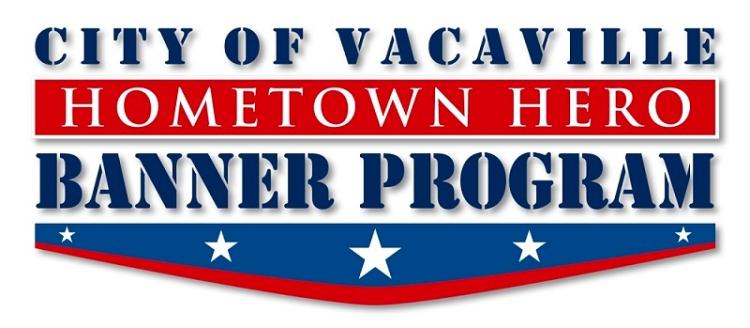 The Hometown Hero Banner Program is a free program designed to honor veterans, funded by the City Council District Benefit Program, a Measure M program. The City Council adopted the program in September 2019, notating that Veterans make up nine percent of Vacaville's population and that through the action of creating a program, the City commemorates the military service of the honorees.
The Hometown Hero Banner Program provides the opportunity for a member of the public to nominate a veteran to be recognized on a public military banner, and have it displayed on city light posts (map), to commemorate the service of a Hometown Hero.
Applications for May 2023 banners must be completed and submitted, including all required documents, by March 31, 2023.
The Application is available to complete online. If you have any questions about the application, please e-mail HometownHero@cityofvacaville.com.

Proof of eligibility must be submitted before an application is considered complete. Residential eligibility can be established by a copy of a utility bill, driver's license, or other similar item. Military eligibility can be established by presenting a military ID, DD-214, or other similar item.

Additionally, a high-resolution digital image (minimum 300 dpi) in jpeg format, or a 5x7 (or larger) photo of the honoree in official uniform (no objects) will need to be submitted.

Applications are accepted on a year-round basis and every effort will be made to have banners installed twice a year before Veteran's Day (in November) and Armed Forces Day (in May). Applicants will be notified by City staff once an installation date has been determined.