At Lockewood Acres, a stout young man greeted me as I pulled in. His brilliant smile was contagious as we shook hands. I asked if he was the boss, which seemed to sincerely tickle him. "I wish," was all he could muster between giggles. Joseph Lukundo had come from Kenya to work and learn from Farmer Ben—the boss. "I'm here learning how to be a real farmer in the scope of growing good food that is most rich in nutrients." Said, John. He had traveled thousands of miles to gain insight into the importance of nutrition. I had traveled two hours to do the same.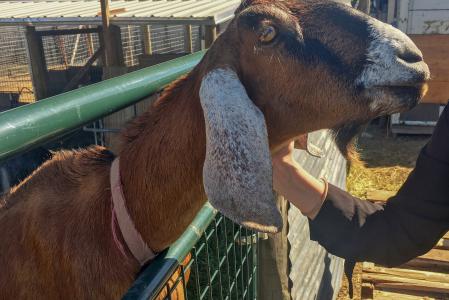 As I took in the tranquility of the farm, Ben Lyons, Farmer Ben, as he likes to be called, waved me over. His phone pinched between his ear and shoulder while negotiating the price of a crop and tinkering with an old Ford tractor that looked like it wouldn't run if he'd spent a lifetime on it. Pungent gas vapors rose from the motor as Ben wrenched down on some hoses. The smell sparked a vivid recollection of this morning's gas station fill-up. A woman stood at the intersection screaming, and punching, and kicking the crossing light. She looked to be somewhere between 20 and 40 and teetering the territory between realities. Would her demons disappear or at the very least dissipate on the farm where her dirty hands were the result of digging in the earth and her sweaty face from hard work? A rooster crows and Farmer Ben offered to show me around as he shared his story.
Life on the road turned to life on the farm in 2010. For years, Farmer Ben had made a living following the rodeo and state fair circuit across the country selling stuffed animals similar to the Build-A-Bear concept. Ben came to Solano County from Ventura, Ca. when his wife took a promotion at work. He had little farming experience but refused to let that stop him. Lockewood Acres was inspired by a 1954 publication reporting on the benefits earthworms and included a farm focused on self-sustenance.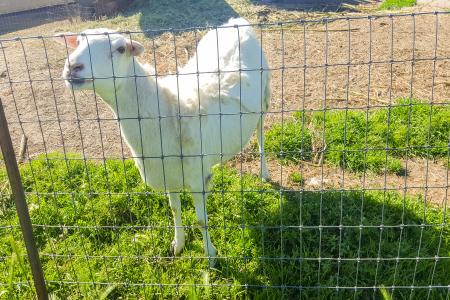 The garden included rows and rows of dark leafy greens. Strange stalks of produce. Ben points out the spinach. Apparently, it's the legit super-food. It contains a long list of vitamins and minerals and can cause serious improvement in overall health—something I seriously needed. I take a silent vow to eat one cup of spinach five times a week for a month and see what happens.
Red ripe pomegranates hung like ornaments in the orchard. Seeds are processed into juice which is loaded with beneficial nutrients. Within two minutes of researching pomegranates, I learned that they have potent anti-inflammatory properties, which can reduce inflammation in the digestive tract. Sounded like a good belly bloat-buster to me. After consuming five ounces of pomegranate juice daily for two weeks, people that suffered from high blood pressure showed a significant reduction. Since high blood pressure is one of the leading causes of heart attacks and strokes—I'm sold. One cup of pomegranate juice to wash down my spinach.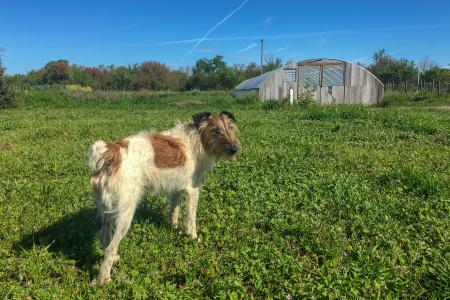 Hens clucked and paraded while we gathered eggs. Real eggs, that when broken have bright golden yolks, not pale-eyed globs that bleed the moment you crack the facade. Next, we visit the St. Croix sheep that look more like white long-haired goats than sheep. Ben swore that because they haven't any wool, they lack that acrid smell and tainted gamy taste that makes me despise eating lamb. I agree to give it a go. Nubian goats are milked and Ben makes dairy products free from the hormone and antibiotic debate. We rounded the goat pens and hogs bounced toward us. Their ears flopped as they bobbed their fat heads to be fed. Ben filled them with produce along with a nutritional pelletized feed.
"This is where I'm coming if the zombie apocalypse ever happens," I said. Ben laughed. Now that his solar system is nearing completion he considers the farm self-sustainable. Not only impressed with the amount of quality foods being produced on only ten acres—I was inspired. At home, I scouted my backyard. Grabbed a shovel and began plotting my vegetable garden while sipping a pomegranate, goat milk, and spinach smoothie. I feel much better after a day at the farm.
---
About the Author
Lisa Michelle is an award-winning writer and filmmaker who creates meaningful narratives through powerful storytelling. Developing stories with significant themes that will inspire readers and audiences to evolve is her passion.
---
About Destination Story Tellers
We combine a bottom-up research approach that sleuth out the hidden stories of your destination's people, communities, history, art, culture, and events. Then, this material is placed in the hands of award-winning
creatives with master storytelling skills, (writing, video, photography), who animate the entire production process and bring your destination's Signature Story to life. All of this occurs under the insight, experience, and quality control oversight of SMG Consulting in collaboration with you and your stakeholders. www.destinationstorytellers.com