Updated June 2019
When summer gets hot, Vacaville's music scene gets hotter! Bands from all over Northern California converge on Vacaville every summer to take part in a local tradition: The Creekwalk Concert Series. On Friday nights from June through August, locals and visitors come together in Andrews Park for live music, drinks, dancing, and family entertainment.
What you need to know:
Admission is $3.00 for 13 years and up, or a season pass is $25.
Bringing folding chairs and/or picnic blankets is recommended. There is no maximum height for folding chairs.
Bringing picnic food is allowed, but bringing in alcoholic beverages is not. There are also many food vendors that set up on the South side of the park.
Beer and wine are available for purchase (Valid ID required).
Pets are not allowed, except for service animals.
Free public parking is available along Main Street, East Main, and in the library parking lot (the entrance is on Dobbins Street).
Restrooms are located on the South side of the park, near the food vendor area, or portable toilets are available on the West side of the park, near the beer truck.
The 2019 Lineup
This year the Creekwalk stage will host a funky, eclectic lineup of pop and dance bands, plus a dose of country, latin, and tribute bands for good measure. With many familiar Creekwalk favorites like Terry Sheets, the Time Bandits, and Hey Jude, the 2019 Season is going to rock and roll all summer long!
June 14th: End Game
June 21st: Terry Sheets
June 28th: Los Cochinos
July 12th: Time Bandits
July 19th: What the Funk
July 26th: Vinyl Ride
August 2nd: Crossman Connection
August 9th: Hey Jude
August 16th: One Sharp Mind
Saturday, August 24th: End of Summer Concert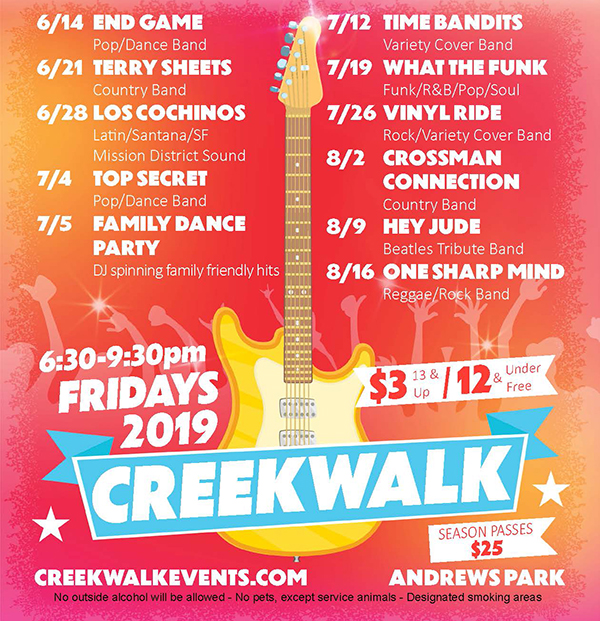 Family Fun
Keep the little ones entertained with a variety of fun and games like giant connect 4, sack races, and more.. or take them up the hill to the amazing Great Wonders Playground. This expansive wooden playground has separate section for tiny tykes and older kids and offers unparalleled opportunities for climbing, imagination games, and epic hide-and-seek challenges that will keep kids entertained long into the evening. Don't worry, you can still hear the music from the play area so grown-ups don't have to miss the show!
Before and After The Show
Bringing a picnic? Local delis like Beach Hut, Diggers Deli, Ike's Love and Sandwiches, Mr. Pickles, and Sourdough & Co. make it easy to pick up a fresh and delicious meal on the way to the concert. Or stroll around Downtown for a casual post-concert meal at Fuso Italian Ristorante or Los Reyes Restaurante Y Cantina, then settle your sweet tooth in for the night with a walk down Davis street to create-your-own froyo concoction at Cultive Yogurt.
For vendor information please contact Creekwalk Events at 707-469-6694 or email specialevents@cityofvacaville.com