Whether visiting for the day, a weekend, or perhaps even a lifetime, everyone needs to know all the best selfie spots in Vacaville, California.
Tourists and locals can use the hashtag #ilovevacaville on their posts to showcase their experiences in this great city and for a chance to have their image featured (with credit) by Visit Vacaville.
1) Basalt Boulders in Browns Valley Open Space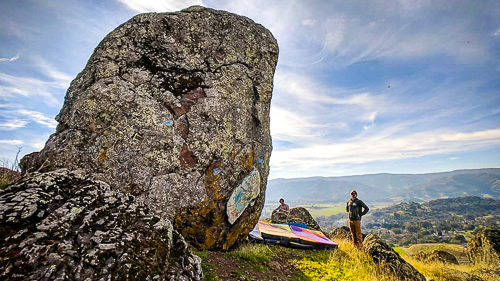 Nicknamed the Nut Tree Boulders, these basalt boulders make for a real cliffhanger of a photograph. Their placement, at the top of a hilly ridge, makes it easy to use perspective to your advantage and capture the illusion of massive ascents and stunning overlooks. Although some climbs are meant for the more experienced, there are some easier ones as well, read our guide to the boulders to get the best tips and tricks for climbing.
2) Lagoon Valley Park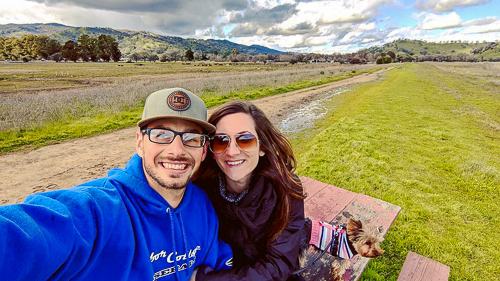 This breathtaking park is home to some of the best views in Vacaville. Upgrade your nature selfie game by shooting pics by the lagoon, on the hills looking down, or during sunset as it rolls past the horizon.
3) Giant Microscope at the Vacaville Art League & Gallery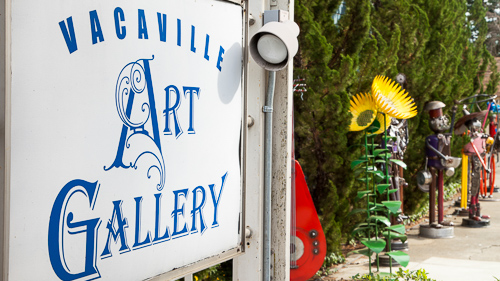 Rock a science nerd selfie at the giant microscope outside the art gallery. This piece was built by sculptor Phillip Glashoff out of fire extinguishers, a tractor bucket, and other recycled metal "junk".
4) The Dragon at Andrews Park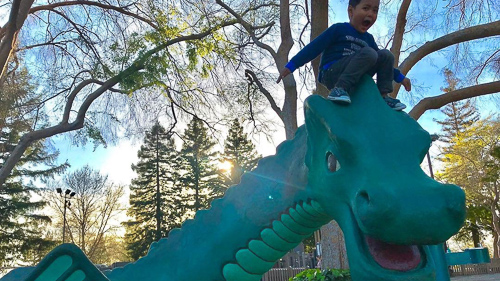 Everyone wishes they had a dragon they could climb onto and fly away. A green scaly friend who would protect you with flaming dragon breath. Maybe having a giant flame-throwing lizard is just a dream, but the dragon at Andrews park feels like the real thing and will definitely boost your selfie game.
5) Nut Tree Selfie Bubbles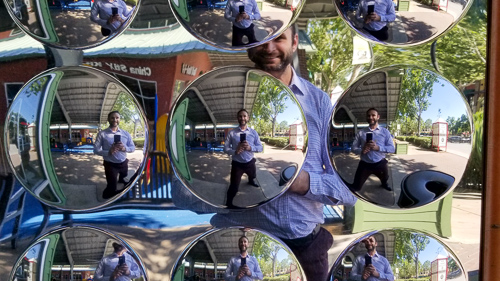 The Nut Tree in Vacaville is the perfect place to go and snap photos if a person is feeling nostalgic but few know about the array of 9 selfie bubbles located on the outside wall of Fenton's Creamery. It can be a little tricky to get the shot just right but it does make for an interesting picture when it is done right.
6) Nut Tree Carousel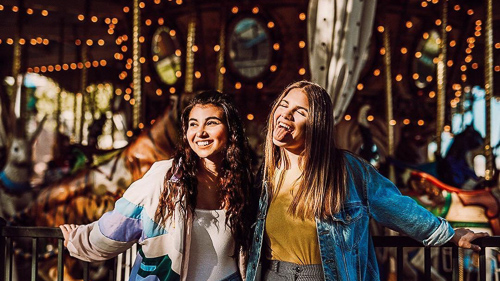 The Nut Tree is iconic and the carousel is magical, especially when it's all lit up. The Carousel is found in the Nut Tree Plaza next to our Visit Vacaville office and is open from 10am until between 7 and 9pm (weather permitting, and depending on the season). If you're here between 9 and 5 Monday - Friday, come and see us at the Visitors Center as well!
7) Alpaca Selfies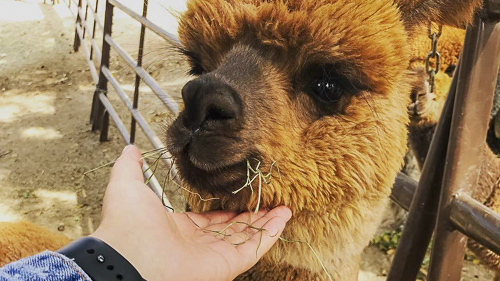 The Vacaville alpaca farms require a call ahead to schedule a tour for a photo op with these fluffy characters, but it's well worth it. After all, who do you know that has an #alpacaselfie? These soft, gentle giants will melt your heart with their big dark eyes and somewhat goofy grins. While you're there, shop at either farm for super soft alpaca yarn and other cool 'paca products.
8) Lockewood Acres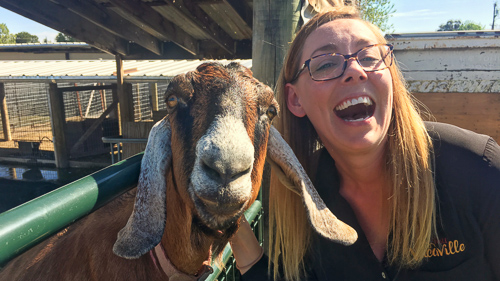 Lockewood Acres offers up an outdoorsy experience that is 100% real, authentic, working farm. Whether you visit for Farmer Ben's annual "Meet the Kids" day in spring, when the baby goats get to show off their fuzzy, frolicking cuteness to the public or heading there to squeeze your own pomegranate juice in the fall, you'll explore what it's really like to be on a Vacaville farm. See what one visitor experienced in a day at Lockewood Acres in our Storyteller blog series.
9) Lucky Ones Ranch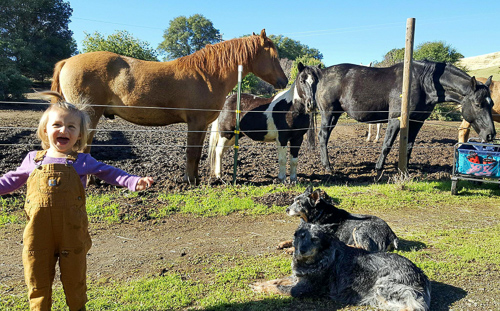 This ranch on the outskirts of town is home to one of the most diverse animal populations around! A nonprofit dedicated to offering forever homes to creatures in need, owners Thao and Vince offer sanctuary to animals who have been abused, neglected, or were no longer wanted. You'll find horses, donkeys, llamas, goats, sheep, pigs, dogs, cats, tortoises, and more there, all eager participants in helping you create the furriest, most feathery selfie ever! The ranch is only open to the public on select days, so check Lucky Ones Ranch social media ahead of time to plan your visit.
11) Sunflower Fields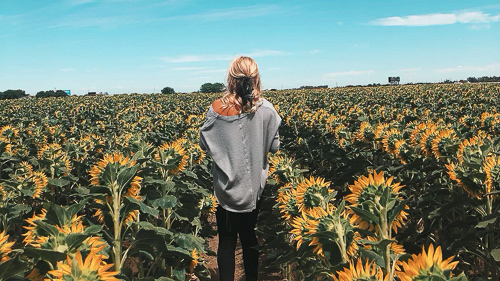 The #sunflowerselfie have gotten more popular locally in the last few years. Maybe it's because people feel like being in a field of sunflowers is like being near the brightness of the sun. Maybe it's because sunflowers are so giant and colorful. Whatever the reason, cash in on this selfie opportunity while in season and before the farmers harvest these beauties. You can find these golden beauties on Leisure Town Road. As always, please be respectful of private property and working farms.
12) Morningsun Lavender Fields and Donkeys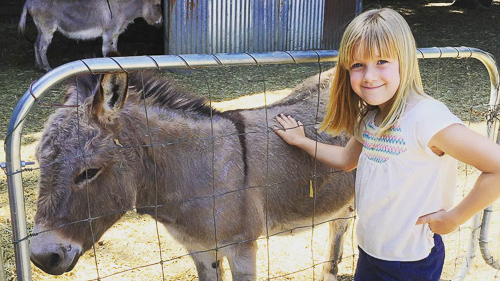 Plant your roots at Morningsun, a huge herb farm and plant nursery just outside of town, and snap a selfie in front of their lavender fields. This area is known for growing a huge variety of lavender plants, and you can find many of them at Morningsun, along with a plethora of other native and unusual plants. Make sure to visit their miniature donkeys for pet, pats, and pics before you go!
13) Wings Behind The Last Tangle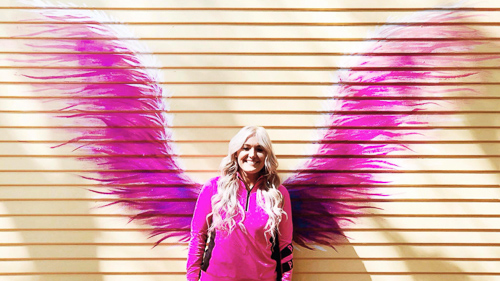 Get some wind beneath your wings with the bright purple angel wings behind The Last Tangle Salon in Downtown Vacaville. This is a perfect spot for a new profile pic featuring you as an angelic host. One of the hardest selfie spots on our list to find, this one is hidden away in the back alley behind the salon.
14) Tree Swing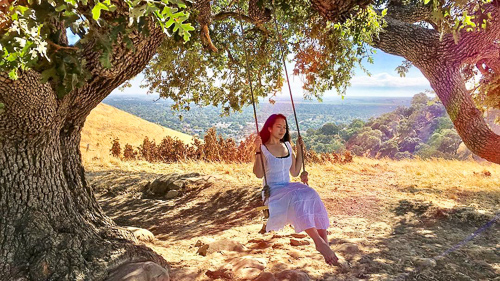 Nothing can make a heart feel more alive than taking a turn on a tree swing. One of Vacaville's two well-known tree swings is atop one of the hills in Lagoon Valley Park. You'll find it's the perfect place for a selfie or even a video for your Instagram Story. To get there, take the first trail that branches off to the left when you enter the park.
15) Old Town Hall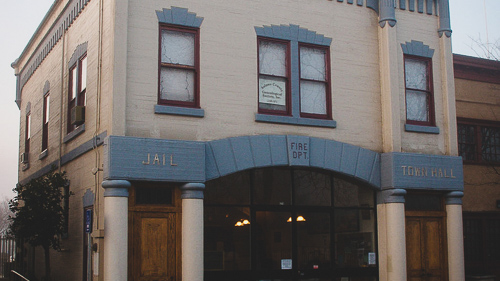 Take a trip to the past by visiting the historic Old Town Hall. Located on East Main Street, Town Hall is a hard building to miss, with its bell tower and distinctive blue trim. Snap a shot in front of this historic gem and you'll have a selfie with one of the first reinforced concrete structures in the West!