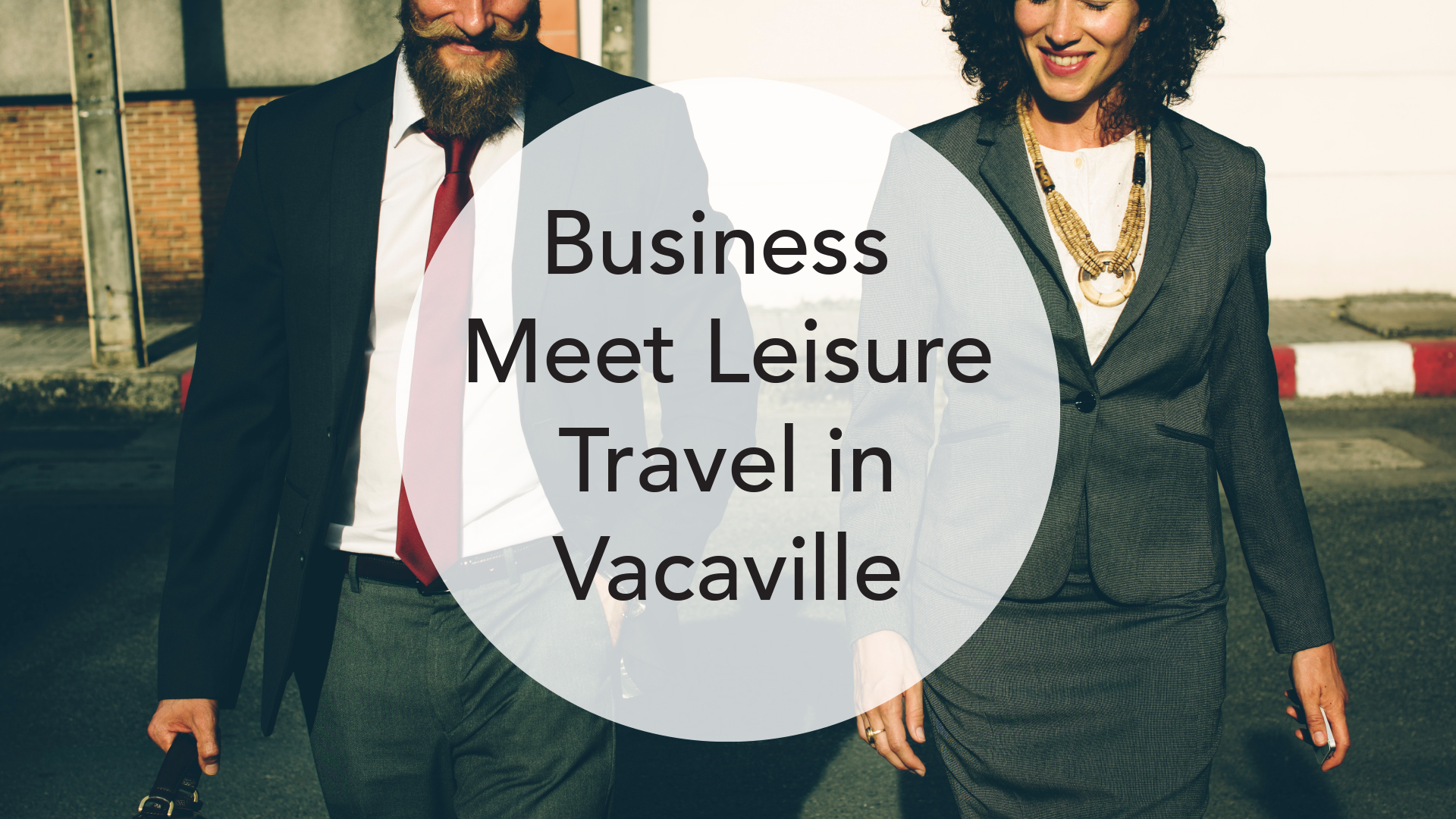 More and more business travelers are weaving components of leisure activities into their business trips, inspiring a new portmanteau word: Bleisure. This odd-sounding expression is the new term for business travelers who extend their stay by an extra few days to partake in leisure activities in their destination.
Visitors to Vacaville are adopting this concept, building exploration and adventure into their own business travel times by finding fun ways to spend extra days or getting out in the evenings to explore Vacaville's nightlife. Here are a few fun ways to mix business and pleasure during your next trip to Vacaville, and don't forget to download our free Trip Planning App to plan your adventure and take it with you on the go!
Outdoor Adventures:
Outdoor adventures abound in and around Vacaville! Pack your hiking gear alongside your workwear and explore epic trails in Lagoon Valley and Lake Berryessa, fishing in Putah Creek, or rock climbing on the basalt boulders in the Browns Valley Open Space. Coming by car? Bonus points if you bring your bike along to tackle the steepest mile-long incline in California, found on Pleasants Valley Road.
Foodie Fun:
Foodies flock to our farmers' markets, festivals, and annual events for local produce and unique food truck vendors. Exploring farm to table cuisine is as easy as stopping in to Backdoor Bistro or frequenting the farmers' market, or take to the backroads on a farm-fresh agriventure as you explore the local produce and farmstands on the outskirts of town. Craft beer fans can head to Solano Brewing Company, which boasts the name of a prohibition-era brewery from Vacaville's past. This pet and family-friendly tasting room offers up a relaxing post-work evening full of food truck fare, flavorful brews, and board games galore.
Shopping:
Shopping is easy to fall into while visiting Vacaville. You'll find brands like West Elm, J. Crew, Kate Spade, and Coach at the Vacaville Premium Outlets, unique vintage and modern finds at the boutiques in Downtown Vacaville, and retailers like Nordstrom Rack, Tuesday Morning, and Best Buy at the Nut Tree.
Day Tripping:
Vacaville is just a hop, skip, and jump from some of the best sights in Northern California, making it the perfect launching point for visits to historical sites, beaches, big cities, and natural wonders. Just 45 miles from San Francisco's Golden Gate Bridge, 30 miles from the State Capitol in Sacramento, and 25 miles from the world-renowned wines of the Napa Valley. Each of these destination are within driving distance, so visitors can spend the savings from Vacaville's classy, yet cost-effective hotel accommodations on adventurous, Instagram-worthy experiences just beyond our borders.
Whatever business brings you to Vacaville, don't miss the opportunity to extend your stay and soak up some fun!