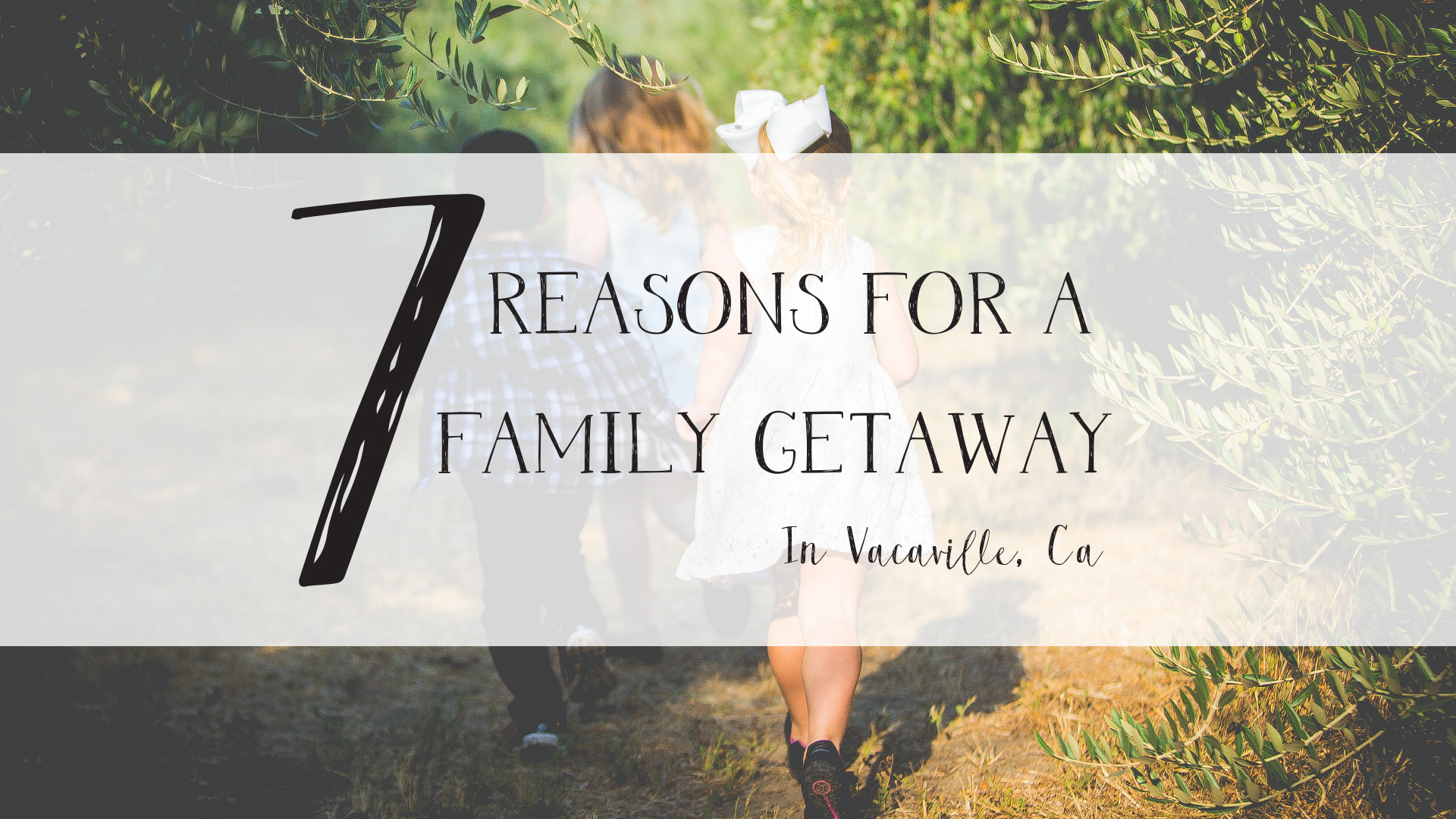 Family travel doesn't have to be stressful! Vacaville offers some of the best family vacations, from interactive adventures to delicious indulgences for all ages. Here are 7 family vacation ideas to help you plan your next getaway in Northern California:
1. To Visit ALL The Animals
What do you get when you mix two animal lovers, a community full of volunteers and donors, and a slew of creatures that need forever homes? Lucky Ones Ranch! This one-of-a-kind nonprofit is home to cattle dogs, horses, sheep, pigs, and even tortoises. It's an amazing spot for families to volunteer for the day or to visit during events. They are not always open to the public, so follow them on Facebook or Instagram to stay in the loop on upcoming open days and times.
2. To Sample Something Sweet
Indulgences abound in Vacaville. Whether it's the sweet taste of triumph that comes with finishing a mammoth sundae at Fenton's Creamery or a trip down the road to Fairfield for a tour of the Jelly Belly Factory, kids will find a sugar rush to remember in Vacaville. Still haven't satisfied your cravings? Other notable sweet spots include CREAM (Cookies Rule Everything Around Me), Peace Love and Boba, and Jungle Yogurt.

3. To Unplug and Get Outdoors
Give the kids a dose of agriventure with an epic climb to the top of one of Vacaville's hills. From sprawling Lagoon Valley Regional Park to the tucked-away serenity of the Browns Valley Open Space, you'll find paths that range from easy to difficult and everything in between. Follow this guide and you may even come across a tree swing or two.. Bonus points if you bring a bicycle and find out why Vacaville is a cyclist's dream with a race down one of Vacaville's bike paths!
4. To See Why Geology Rocks
Home to one of the largest collections of rocks and minerals on the West Coast, Consolidated Rock and Mineral (aka The Rock Shop) is a quirky and fascinating place to visit. Part retail store, part museum, part educational exhibit, this enormous collection is housed in a warehouse on Quinn Road where visitors can spend hours exploring, learning, and shopping for unique geological finds.
5. To Take a Spin on the Historic Nut Tree Train
Grown-ups who remember the Nut Tree in its heyday will find a hefty dose of nostalgia, and new generations will find hours of fun during a visit to the reimagined Nut Tree Plaza. No visit would be complete without a ride on the train, which is still the original engine from the 1950's that once ferried visitors back and forth from the Nut Tree Airport (you can even see the original Nut Tree plane at the Center for Freedom and Flight, a free museum dedicated to aviation history). The enchanting carousel, giant chess set, and playground all offer a welcome break from shopping. There are plenty of picnic tables in the play area, so grab a snack from one of the nearby restaurants and eat alfresco while the kids have some fun. Don't forget to stop by the Visit Vacaville Visitor's Center for souvenirs and free visitor info while you're there!

6. To Jump, Splash, Play, and Learn
Need a few quick, kid-friendly activities to keep little ones engaged during your visit? Rockin' Jump offers hourly rates to access their enormous indoor trampoline park (there's a separate area for tiny tots to jump, too), or spend an afternoon exploring STEAM learning at Vacaville's Imagine That!, a hands-on science and technology museum. Summertime visitors can beat the heat on the water slides at Walter Graham Aquatic Center or at the splash pads in Magnolia Park. For free fun and a great way to get some energy out, take the family to Great Wonders Playground, located inside of Andrews Park. The huge wooden play structure offers up hours of climbing, hide and seek, and other fun! Andrews Park also hosts an annual KidFest in October, which is a free event featuring crafts, games, activities, and more that are all designed for little ones.
7. To Join the Fiesta
Every Memorial Day weekend Downtown Vacaville hosts our annual celebration of Hispanic Heritage: Vacaville Fiesta Days. Kicking off with a parade down Merchant Street, this festival hosts a carnival in Andrews Park with live music, performers, and food trucks. It's the ultimate celebration of Vacaville's history and an unforgettable way to have fun with the whole family.
Find even more family fun on our Things to Do page, and don't forget to share your adventures with us using the #ilovevacaville hashtag!