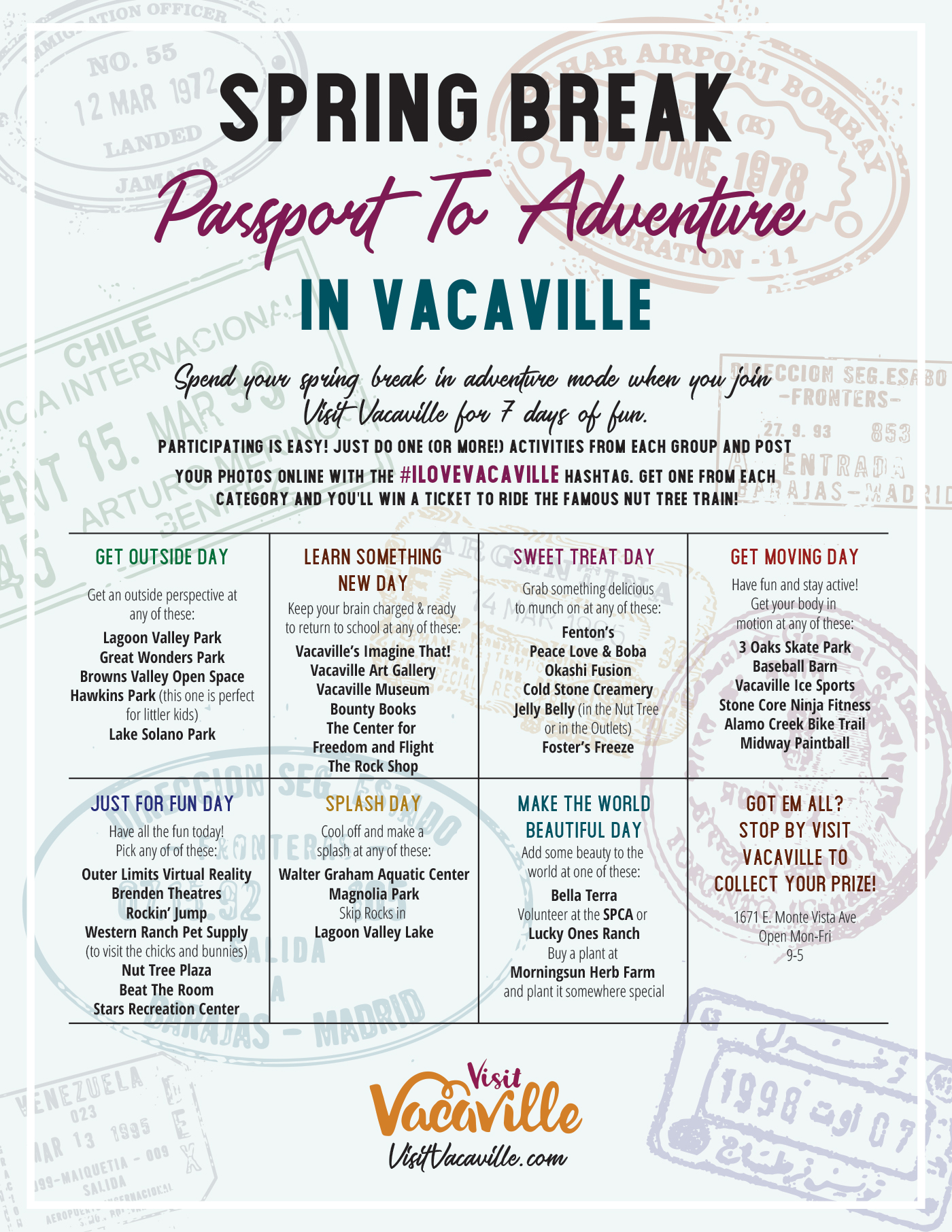 Get Outside Day
This one is easy. Get out and enjoy Vacaville's rolling hills, dramatic scenery, and expansive skylines at any of these beautiful parks: Lagoon Valley Park, Great Wonders Playground (Andrews Park), Browns Valley Open Space and the Browns Valley Boulders, Hawkins Park (a great choice for smaller children), or Lake Solano Park.
Learn Something New Day
Brains don't take breaks! Keep yours engaged by learning something new at one of these spots around town: Vacaville's Imagine That!, Vacaville Art Gallery, Vacaville Museum, Bounty Books, The Center for Freedom and Flight, or Consolidated Rock and Mineral (The Rock Shop)
Sweet Treat Day
Slurp on something sweet to celebrate this day, bonus points if you try something you've never had before! Head over to any of these local favorites: Fenton's, Peace Love & Boba, Okashi Fusion, Cold Stone Creamery, Jelly Belly (in the Nut Tree or the Outlets), or Foster's Freeze.
Get Moving Day
Keeping active is nothing but fun when you visit one of our choices for this day. Pick a sport, any sport and celebrate this day at one of these: 3 Oaks Skate Park, Baseball Barn, Vacaville Ice Sports, Stone Core Ninja Fitness, the Alamo Creek Bike Trail, or Midway Paintball.
Just For Fun Day
Because you're still on break. Go ahead, you deserve it. Pick any one of these: Outer Limits Virtual Reality, Brenden Theaters, Rockin' Jump, Western Ranch Pet Supply (to visit the chicks and bunnies), Nut Tree Plaza, Beat the Room, or Stars Recreation Center.
Splash Day
Summer fun starts early on this day. Whatever the weather, Vacaville has a few great ways to make a splash: Walter Graham Aquatic Center, Magnolia Park, or skipping stones at Lagoon Valley Lake.
Make the World Beautiful Day
Add some beauty to the world by creating something lovely, helping something grow, or donating your time to make an animals life better at any of these: Bella Terra, volunteer at the SPCA or Lucky One's Ranch, or buy a plant at Morningsun Herb Farm and plant it somewhere special.
Have you got them all? Post your photos using #ilovevacaville and then stop by our Visitor's Center to collect your prize!