Updated June 2019
Get the Printer-Friendly PDF Version Here: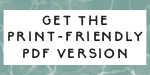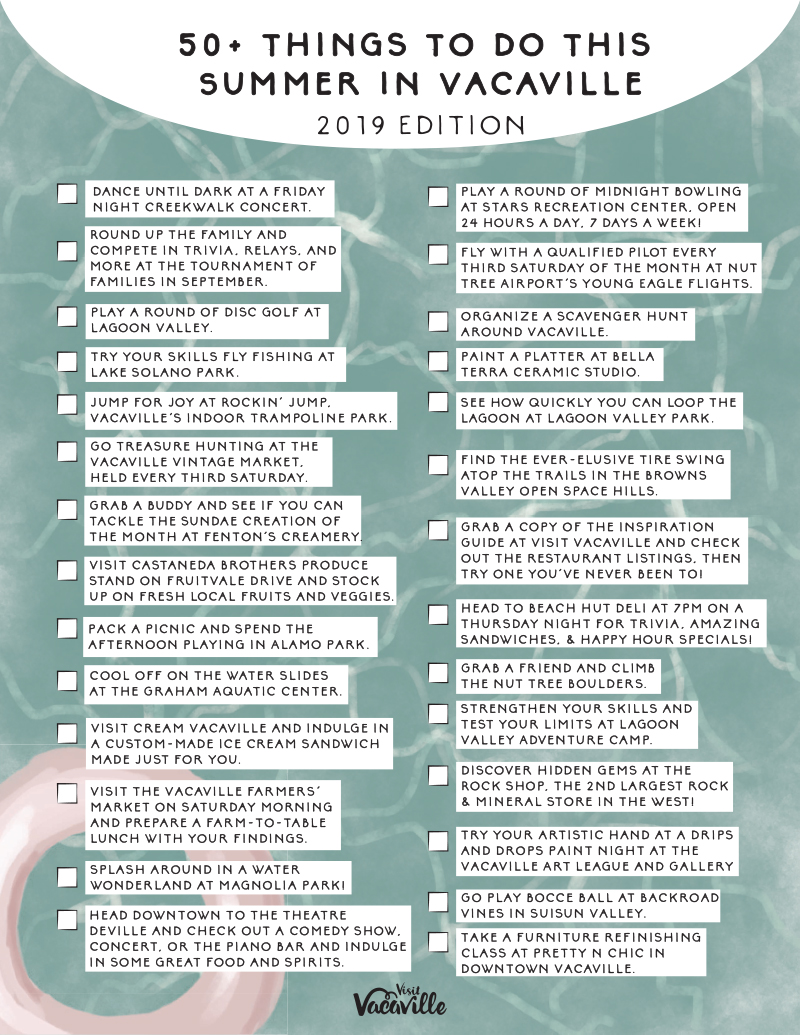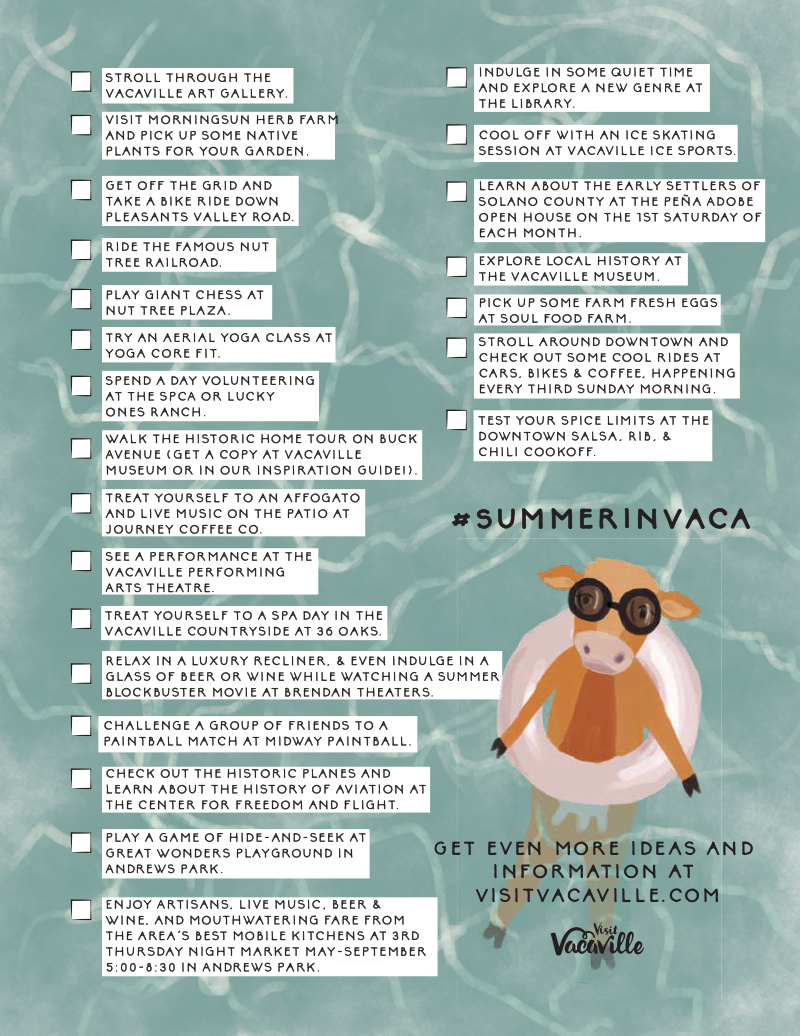 Find 50+ awesome things to do in Vacaville this summer!
From outdoor recreation to family-friendly activities, you can splash, eat, learn, and explore your way across town using this easy guide to find all the best places for summer fun!
Dance until dark at a Friday night Creekwalk concert.
Round up the family and compete in trivia, relays, and more at the Tournament of Families in September.
Play a round of disc golf at Lagoon Valley.
Try your skills fly fishing at Lake Solano Park.
Jump for joy at Rockin' Jump, Vacaville's indoor trampoline park.
Go treasure hunting at the Vacaville Vintage Market, held every third Saturday.
Grab a buddy and see if you can tackle the sundae creation of the month at Fenton's Creamery.
Visit Castaneda Brothers Produce Stand on Fruitvale Drive and stock up on fresh local fruits and veggies.
Pack a picnic and spend the afternoon playing in Alamo Park.
Cool off on the water slides at the Graham Aquatic Center.
Visit CREAM Vacaville and indulge in a custom-made ice cream sandwich, made just for you!
Visit the Vacaville Farmer's Market on Saturday morning and prepare a farm-to-table lunch with your findings.
Splash around in a water wonderland at Magnolia Park!
Head Downtown to the Theatre Deville and check out a comedy show, concert, or the piano bar and indulge in some great food and spirits.
Play a round of midnight bowling at Stars Recreation Center. Open 24 hours a day, 7 days a week!
Fly with a qualified pilot every third Saturday of the month at Nut Tree Airport's Young Eagle Flights.
Organize a scavenger hunt around Vacaville.
Paint a platter at Bella Terra Ceramic Studio.
See how quickly you can loop the lagoon at Lagoon Valley Park.
Find the every-elusive tire swing atop the trails in the Browns Valley Open Space hills.
Grab a copy of the Inspiration Guide at Visit Vacaville's Visitor Center and check out the Restaurant Listings, then try one you've never been to!
Head to Beach Hut Deli at 7pm on a Thursday Night for trivia, amazing sandwiches, and happy hour specials!
Grab a friend and climb the Nut Tree Boulders.
Strengthen your skills and test your limits at Lagoon Valley Adventure Camp
Discover hidden gems at the Rock Shop, the 2nd largest rock and mineral store in the west!
Try your artistic hand at a Drips and Drops Paint Night at the Vacaville Art League and Gallery.
Go play Bocce Ball at Backroad Vines in Suisun Valley.
Take a furniture refinishing class at Pretty N Chic in Downtown Vacaville.
Stroll through the Vacaville Art Gallery.
Visit Morningsun Herb Farm and pick up some native plants for your garden.
Get off the grid and take a bike ride down Pleasants Valley Road.
Ride the famous Nut Tree Railroad.
Play giant chess at the Nut Tree Plaza.
Try an aerial yoga class at Yoga Core Fit.
Spend a day volunteering at the SPCA or Lucky Ones Ranch.
Walk the Historic Home Tour on Buck Avenue (get a copy at Vacaville Museum or in our Inspiration Guide!)
Treat yourself to an affogato and live music on the patio at Journey Coffee Co.
See a performance at the Vacaville Performing Arts Theatre.
Treat yourself to a spa day in the Vacaville countryside at 36 Oaks.
Relax in a luxury recliner and even indulge in a glass of beer or wine while watching a summer blockbuster movie at Brenden Theaters.
Challenge a group of friends to a paintball match at Midway Paintball.
Check out the historic planes and learn about the history of aviation at the Center for Freedom and Flight.
Play a game of Hide-and-Seed at Great Wonders playground in Andrews Park.
Enjoy artisans, live music, beer & wine, and mouthwatering fare from the area's best mobile kitchens at 3rd Thursday Night Market, May-September from 5pm-8:30pm in Andrews Park.
Indulge in some quiet time and explore a new genre at the library.
Cool off with an ice skating session at Vacaville Ice Sports.
Learn about the early settlers of Solano County at the Pena Adobe Open House on the 1st Saturday of each month.
Explore local history at the Vacaville Museum.
Pick up some farm fresh eggs at Soul Food Farm.
Stroll around Downtown and check out some cool rides at Cars, Bikes, and Coffee. Happening every third Sunday morning.
Test your spice limits at the Downtown Salsa, Rib, and Chili Cookoff.
Tell us about your adventures using #summerinvaca and #ilovevacaville and you may be featured on our site!